Don Salladin
Engineering Sales Representative
Ellsworth Adhesives

Tom Steucek
Engineering Sales Representative
Ellsworth Adhesives

Eric Traxler
Engineering Sales Representative
Ellsworth Adhesives
Electronic sensors are the go-to data input device for many industries and tasks. Sensors are often part of mission-critical systems where they must be protected from adverse operating conditions. Engineers are commonly challenged to find a low-cost, manufacturing-friendly method of incorporating sensors into a system that will function in a harsh environment while meeting demanding performance requirements.
Protecting Vulnerable Sensors
Sensor-based systems are required to be both accurate and sensitive. Therefore, protecting a sensor is imperative to creating a reliable, accurate product without compromising instrument sensitivity. This narrow equilibrium is easily upset by poor assembly methods, mechanically constraining hardware, or a hostile environment.
| | | | |
| --- | --- | --- | --- |
| Sensor type | Example application | Protection from | Properties needed |
| Ultrasonic, Electromagnetic Acoustic Transducer (EMAT) | Position detection in assembly line | Impacts; vibration; contaminants | Acoustically permeable |
| Load cell | Scales | Thermal expansion; overstrain | Deformation transfer to strain gauge |
| Turbidity | Water quality testing | Water ingress; oxidation | Optical transmission |
| Moisture/temperature (wireless) | Determining wet road conditions | Vibration/shock; compression; corrosives (road salt); weather; temperature | Thermally conductive; RF permeance |
| Inertial | Munitions | Shock; temperature | Disposable (low cost) |
| Myocardial | Monitor patient temperature changes during heart surgery | Contaminants; fluid ingress | Sterility (adhesive unaffected by biocides) |
| Airspeed | Aircraft speed | Extreme temperatures; weather | Instrument exposure to air flow |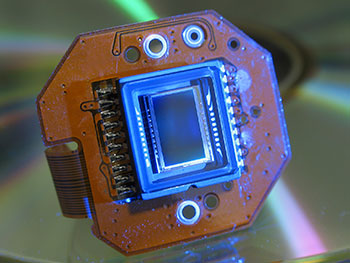 Choosing the Right Adhesive
Adhesives simplify assembly processes, often replacing costly or vulnerable hardware like rivets and welding. Benefits include:
Reduced assembly times
Eliminating costly curing equipment
Increased throughput
Decreased part count and material costs
Simplified product designs
Sensor components that generate heat will benefit from a thermally conductive adhesive, which can route excess heat to an outer case or heat sink to protect sensitive equipment. Innovative and customizable solutions exist as well, such as:
Electrically conductive fillers that protect against over-currents in a circuit
Casting resins used instead of individual component and PCB housings
Functionally graded or layered compounds that create a laminated composite, with each material imparting its own mechanical, thermal, or electrical properties
No matter the adhesive, Ellsworth Adhesives' global network of Glue Doctors® are equipped with the experience and knowledge to find the right solution for your application.
To learn more about smart sensor solutions, download the white paper.
For help identifying the right material for your sensor assembly, contact us.