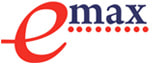 Dymax E-MAX products are joint labeled materials developed by Dymax exclusively for Ellsworth Adhesives. E-MAX products are light-curable materials that are typically used for conformal coatings, gaskets, electronic maskants, reinforcement, and bonding glass and plastics.
Choosing the right UV curing materials and equipment can be a challenge. Consulting with a total solutions provider can help you make quality decisions that will ensure success when using LED light-curing technology. Discuss your application with an industry expert today, Ask the Glue Doctor®!
Light-Curable Materials

E-MAX adhesives and conformal coatings are used for:
Dymax See-Cure is a light curing adhesive technology that starts off bright blue in the uncured state and turns clear after full cure. This confirms when the adhesive has received a sufficient dose of energy to cure.


Dymax offers light-curing equipment for curing adhesives, coatings, maskants, and sealants including spot lamps, flood lamps, conveyor systems and radiometers. These systems are suitable for large or small scale production. Full cure is only achieved when materials are exposed to light with appropriate intensity, wavelength, and duration.
Spot lamps: Used for quickly curing small areas at a high intesity and are easily integrated into benchtop systems or automated assembly processes.
Flood lamps: Used for curing large areas or several small parts at a slower rate with moderate intensity. They can also be integrated into benchtop systems or automated assembly processes.
Conveyor systems: Used for curing large parts at a consistent speed and cure time. Eliminates stray UV light and external exposure.
Radiometers: Meaures light intensity and transmission rates in order to maintain an accurate and consistent light-curing process.
Need help establishing a light curing process? Contact us today.
---