3M™ Scotch-Weld™ Structural Adhesives
Using 3M™ Scotch-Weld™ structural adhesives in place of mechanical fasteners gives you more design flexibility and provides many benefits to your production process. There are four main adhesive chemistries suitable for replacing traditional joining methods. Acrylic adhesives are best used for bonding metal and plastics while providing high impact resistance. Epoxy adhesives are the most flexible, offering superior vibration and environmental resistance compared to other chemistries. Urethanes offer quick cure speeds and are best for bonding dissimilar materials. Cyanoacrylate instant adhesives bond to the widest range of substrates, come in a variety of viscosities, and have the fastest cure speeds.
When choosing your adhesive there are many factors to consider such as what substrates are being bonded, cure speed desired, type of joint, stresses, and how the adhesive will be applied.
Benefits of Structural Adhesives
High strength, flexible bonds

Increased durability

Reduce labor and increase productivity

Easy and accurate dispensing

Improve aesthetics

Design flexibility
Substrates
Metal

Plastic, paints, and coatings

Rubber

Composites

Concrete, ceramic, and glass

Wood

Electronics potting
Markets
Aerospace

Appliance

Electronics

Metalworking

Signage

Specialty vehicle

Sporting goods
Needs help choosing the right structural adhesive for your application? Live chat with an industry expert!
Product Categories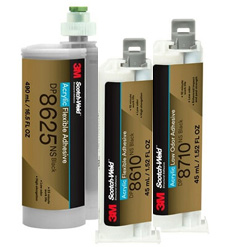 Acrylic
Used for bonding low surface energy plastics, metals, and replacing welding, screws, and rivets.
Top Products:
DP8610NS Black
DP8625NS Black
DP8705NS Black
DP8710NS Black
DP8725NS Black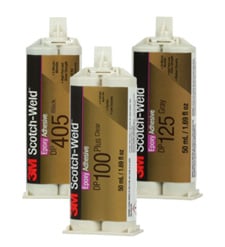 Epoxy
Epoxies offer high shear strength, flowability and environmental resistance when bonding metals and plastics.
Top Products:
DP100 Clear
DP125 Gray
DP270 Black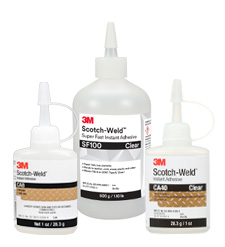 Instant Adhesives
These cyanoacrylates have very fast setting times and are used for bonding metal, rubber, and plastics.
Top Products:
CA4 Clear
CA40 Clear
CA40H Clear
CA8 Clear
SF100 Clear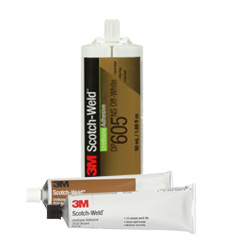 Urethane
Used for bonding to painted or primed metals and plastics while offering impact resistance and non-sagging properties.
Top Products:
DP605NS Off-White
3535 Off-White
3549 Brown
---
3M Dispensing Equipment
3M offers both manual and pneumatic hand-held dispensers for low to high volume applications. They can be used with 37 mL up to 490 mL cartridges with mix ratios of 1:1, 2:1, 2:3, and 10:1. Various static mixing nozzles are also available.