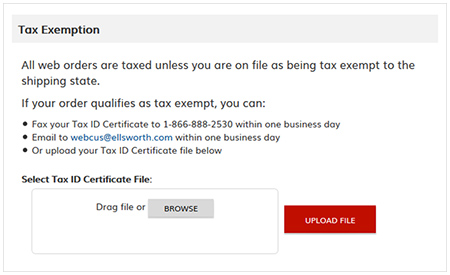 Under the payment step in the checkout process there is a place for you to upload your Tax ID Certificate. Select your Tax ID Certificate by dragging your file or clicking on the Browse button. Then click the "Upload File" button. The only file types that are accepted are PDF, JPG, or PNG that are less than 1 Mb in size. You can also email your file to webcus@ellsworth.com within 24 hours of placing your order.

You will receive the following message: "Your Tax ID Certificate will be reviewed after placing your order". It may take up to 3 business days for your tax credit to be issued.
*Please note that your credit card will not be charged until your order has shipped.